10th ANNIVERSARY
FESTA ITALIANA

Charlotte 2015
SUNDAY MAY 17th 2015
….again in the Beautiful Courtyards of
QUEENS UNIVERSITY of Charlotte
It is all about Charity &
the Best Italian Food
 in Charlotte
Proudly for the 10th year in a row
To Celebrate the
FESTA's
10th Anniversary
we want to
"Raise the Roof at Nevins Center"
 by  buying them a much needed new roof
So, Save the Date.
TICKETS ON SALE SOON
WE ARE WORKING ON A BRAND NEW WEB SITE.
WHEN THAT SITE IS UP BY THE END OF MARCH 2015
TICKETS WILL GO ON SALE ON THAT SITE. SAME WEB ADDRESS AS THIS ONE
SINGLE TICKETS …. $75
VIP RESERVED TABLE for 8 ….  $640
VIP RESERVED TABLE for 12 …. $960
YOUNG PEOPLE  12-20 ….  $25
CHILDREN  UNDER 12 …. FREEE
If you are on the FESTA email list, you will receive an email when Tickets go on Sale. If we do not have your email or you have a new one, please email us now: info@festaitalianacharlotte.org
If you want to inquire about becoming a SPONSOR of the
FESTA

or make a Donation:
LAST YEAR
9th
Annual  St. Anthony
FESTA ITALIANA

Charlotte 2014
Was
SUNDAY MAY 18 2014
 in the Beautiful Courtyard of PREMIER SPONSOR
  
It was all about

Charity

 &
the

Best Italian Food
 in Charlotte
Proudly for the 9th year in a row
T
HIS IS WHAT YOU AND WE DID:
FIRST THE CHARITY
We are so proud to tell you that with FESTA 2014 funds, the generous help of Adventure Vans, our Hard Working Committees, St Anthony Foundation of Charlotte Board Members, FESTA Volunteers, Nevins Staff and Volunteers, Chefs, Ristoranti, Queens University, and all ourGenerous Sponsors, Donors, and FESTA Attendees,  Nevins purchased a gorgeous, like new, 15 passenger Handicap Accessible Van.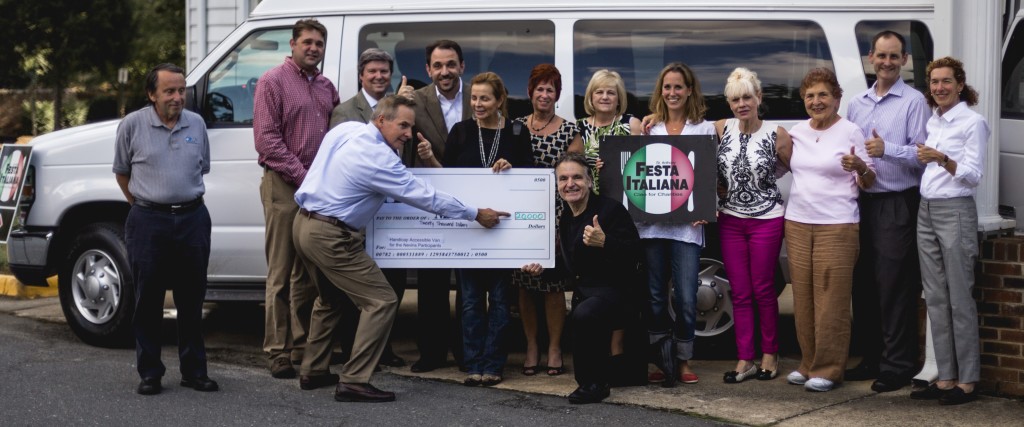 FESTA COMMITTEE CHAIRS, FOUNDATION and NEVINS BOARD MEMBERS at QUEENS UNIVERSITY

FESTA COMMITTEE CHAIRS, FOUNDATION and NEVINS BOARD MEMBERS with QUEENS UNIVERSITY'S ASST PROVOST NANCY McNELIS and DIR EVENT SERVICES TAMARA OSBORNE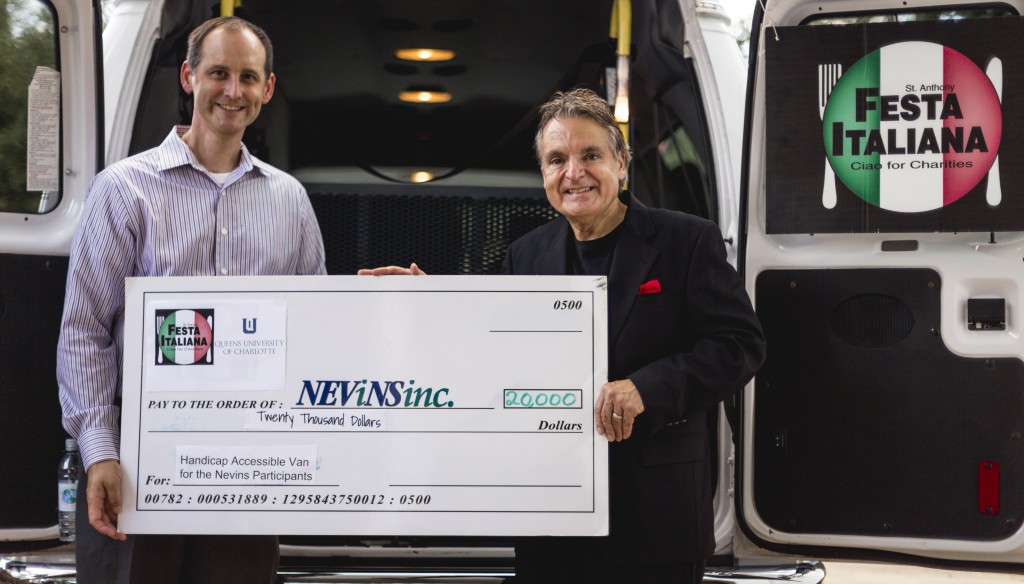 NEVINS' PHIL GUSSMAN
and
ST ANTHONY FOUNDATION'S VINCENT VOCI
NOW…THE FOOD AND BEVERAGE, ENTERTAINEMNT, ART, and AUCTION
Guests Enjoyed Unlimited Spectacular Italian Foods…see below
Plus
Delicious and endless Italian Wines and Prosecco by Cupcake Wines
Peroni Beer all afternoon
Purus Organic Italian Vodka shots and with fresh Strawberry puree
Wonderful Live Stage Entertainment by Agnes Florian and Katherine Alexander
A large

First Class Silent Auction

with over 100 items by Liz Petko
The Grand Opening of our  "Gallery Art for Charity" by Sandra Valencia Voci, Tina, and Artist Friends
"Let's Talk" Italian

 Kid Zone by Let's Talk's  

Claudia and Mauricio Valencia
An Olive Oil and Balsamic Vinegar Tasting Bar
                     by

Grapes and Olives on Tap
Italian Imported Delicacy Tasting by

Zia Pia

!
The Festa was, of course, again generously and graciously
Hosted by
Queens University of Charlotte
in their  beautiful Trexler Courtyard, Portico, and Chartwells' Kitchens for the 4th year in a row.
Our Visiting Italian Guest Chefs,

Massimo and Maria Victoria Zaina

,
flew in  from  Lago di Como, Italia, and delighted and entertained  us and the other Chefs in their demonstration tent.
Maria Victoria's Garden Fresh Vegetable Penne Pasta

was out of this world. People could not stop eating it. This was followed by

Master Chef Massimo with his absolutely delicious Grilled Turkey Breast in a Buttery Creamy Leek Sauce

. The Recipes are available…just email us.
Another Star of the Afternoon was

Chef Shawn Kravis

, Executive Chef of Compass Chartwell's at Queens.
He and his crew assisted by our Volunteers headed up by Perry "Rocco" Spinelli masterfully produced the Italian Chef's Dishes PERFECTLY for all 600 Guests!! We owe a great deal to the generosity, enthusiasm, and great talents  of
Chef Shawn Kravis

and

Dining Director Stephen Steiger

. Bravi e Grazie Mille!!!!
Before this,  though, we are very proud to have had some of

Charlotte's Best Chefs

present and serve their best 

Italian Appetizer Dishes

.
Blue and Osso's Exec Chef Gene Briggs presented his absolutely delightful unique Oxtail Ravioli
Bistro la Bon's Exec Chef and Owner Majid "Majik" Amourpoor blew us away again with his Squid Ink Risotto. Plus he also graced us with being our Head Chef for our Famous 3ft Seafood Risotto. Chef Marla Thurman and Chef Marco Lubrano helped Chef Majid along with fellow Bistro la Bon owner Tony Debestani
Brooklyn South Pizzeria's Owners and Chefs, Lucia and Vincent Caminiti, assisted by their Famiglia, like every year, baked and served us with scrumptious mouth watering pizza
Vivace's  Jamie Kudalis made their creamy and very tasty Sweet Pea Pancetta Risotto for us to enjoy. Grazie Gille Jamie and Vivace !!
Mama Ricotta's Chef Joe Morrison and Brad Calder demonstrated preparation of fresh mozzarella cheese and made bountiful and  beautiful, delicious bruschetta all Mama Ricotta !! Bravo !!
Passion 8′s Exec Chef Owner Luca Annunziata presented and served absolutely spectacular home made Gnocchi with a delightful fresh Basil Tomato  Sauce di Sorento. Sweet and Savory…Fantastico e Delizioso !!!
Stagioni's  Chef Larry Schreiber and Colleagues prepared and served tender delicious Polpi a griglia: grilled octopus. This is one of their ristoranti's most popular appetizers. Bravo !!  Perfetto !!!
Il Bosco's  Chef Owner Jimmy Hermann e Famiglia again prepared magnificent fresh Arancini, deep fired stuffed rice balls, on site. Deliziosso !!!!  His wife once again bruoght her famous Pignoli Cookies. Brava !!
Southminster's Chef Philip Platoni served his wonderful  sweet, melt in your mouth, braised short ribs over wonderful sundried tomato polenta. Grazie mille, Chef Philip
SunFlour Bakery's Baker Owner, Debbie Bartok presented her scrumptious Frangelico Cupcakes ! The very talented, Debbie, offered to make any Italian Liquor flavored cupcakes we thought would compliment the other flavors of the FESTA. She was right on.
The CoffeeBoss' Barrister Owners Erika and Heinz Boss from the Lake served their delicious expert Italian Espressos and Cappuccinos during the entire FESTA.  After all, Perfect Espresso goes with Everything !!!!  Bravi, e Grazie mille !!!
Pasta and Provision's again provided all the Cannoli we could eat !!!  all the FESTA CANNOLI GIRLS had     to do was fill them…hahaha all 600 of them…that's why they were so fresh and delicious..filled on the spot !!!
Antico Eremo's  Annagrazia Vivetti graciously and generously supplied us with delicious Gelato and Tiramisu ingredients !  Frank Franklin from Swanson-Girad supplied the machine and his talents to make the Gelato for us all day !! Jacqueline Liger and her mother and father made trays and trays of Tiramisu.
Fiamma will join us again next year. Fernando promised !!
Then…….. Dolce:  Dessert with  Espresso and Cappuccino from The Coffee Boss !!!
It all benefits the
NEVINS Center

, creating opportunity, fulfillment, and quality of life for those with special needs and developmental disabilities.
 A Very Special Thank You….
Grazie Mille..  to
Our  FABULOUS  Emcees
WBTV News Anchor
Kristen Miranda 
Weather Anchor 
Ashley Batey
OUR 2014 VISITING ITALIAN CHEFS
MARIA VICTORIA AND MASSIMO ZAINA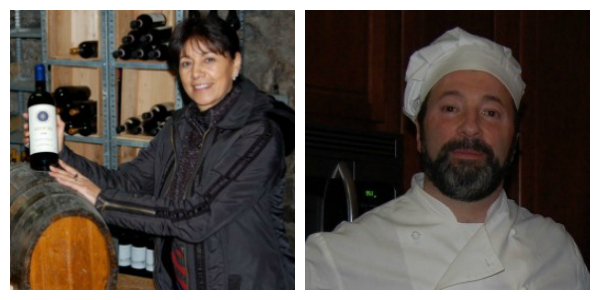 And a Wonderful
Heartfelt Thank You to
All our
Spectacular Talented Entertainers
and our Producer and Stage Manager,
Agnes

Florian

…BRAVI !!!!

—————————————————————————————————————————————————————–
COMING SOON !!
FESTA ITALIANA 2015
THE 1OTH ANNIVERSARY
SUNDAY MAY 17 2015
QUEENS UNIVERSITY, MYERS PARK