8th Annual St. Anthony
FESTA ITALIANA Charlotte 2013

 WONDERFUL SUCCESS
I
t was all about charity and the Best Italian Food in Charlotte for the 8th year in a row. Guests enjoyed unlimited spectacular Italian Food, delicious Italian Wines, Prosecco, Peroni Beer, wonderful Live Stage Entertainment, a large first class Silent Auction with over 100 items, "Let's Talk" Italian Kid Zone, an Olive Oil and Balsamic Vinegar Tasting Bar, by Grapes and Olives on Tap, Italian Imported Delicacy Tasting by Zia Pia! The Festa was again held on the beautiful surroundings of Queens University of Charlotte, our gracious and generous Host Sponsor for the third year. It all benefitted the Nevins Center, creating opportunity and quality of life for those with special needs and disabilities.
You donated, through

FESTA ITALIANA Charlotte

2013

, a brand new entire HVAC System for Nevins Center. This replaced their units dating back to 1969 !! We are so very proud of this and so very thankful that we have so many generous people involved with the FESTA

….volunteering, working very hard, donating, sponsoring, and attending.  

This means you helped make in many ways 

"una bella vita" for many people that otherwise may never know what that means.
 Special Thank You…. Grazie Mille  to
Our Emcees
WBTV News Anchor
Kristen Miranda 
Weather Anchor 
Ashley Batey
This year we Celebrated the Year of Italian Culture with
Guest Chef from LAGO di COMO, ITALIA
 Massimo Zaina
Demonstrated, Taught, and Served Specialties of his and his Chef Wife,
Maria Victoria

,
Maiale (Pork) Scaloppini e Farfalle Pasta con Carciofi (Artichokes)
FESTA HEAD CHEF

   
Roberto Mendoza
 then prepared these dishes for the 600 FESTA Guests
DELIZIOSSO !!  Grazie mille Chefs Massimo, Roberto, Maria Victoria
….and all their generous and hard working Volunteer helpers !!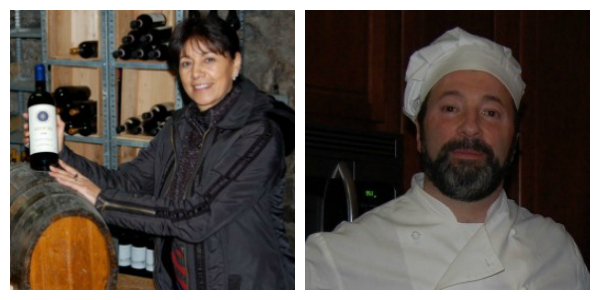 Maria Victoria                                         Massimo
FESTA Executive Chef
Gino Macchiavello
Demonstrated and Cooked  Our Famous 4 foot Seafood Risotto
with Seafood by the Meat &Fish Co.
and the help of Former FESTA Head Chef Marco Lubrano, Chef Isabel Macchiavello, and Sherry Polcyn .

Celebrity Chefs
from Charlotte's Best
Ristoranti, Caterers, Bakeries,
and
Purveyors 
presented their incredible appetizers,  breads, desserts & espresso.
Brooklyn South Pizzaria, Blue, Osso, Vivace, Mama Ricotta's, Bistro la Bon, il Bosco, Delectables by Holly, The Coffee Boss, Pasta and Provisions, Grapes and Olives on tap, Zia Pia, the Meat and Fish Co., DePalo Bakery, Duke's Bread,
and more!



Live Stage Entertainment
from wonderful performing artists including
Soprano Gina Gutierrez,Tenor Franco Londono
,

Tenor Charlie Lang,The TBA Girls

,

Pianists Keiko Aloe and Randy Jones of Allegro Studio

,

Singer Carlo Martini

,

Jazz Crooner Bobby Umber,The el Alma de la Luna Dancers: Sarah Stafford, David Stafford, Jamie Avalo, Juan Valle, and Lizbeth Serna

,

Pianist Michael Lazenby

,

Violinist Saule Akberdiyeva, Brad Bailey-Guitarist and Dean Wiklacz-Drummer with Bobby Umber's Band, Luis Matute-Young Pianist/Drummer/Guitarist, Louis Senay-Pianist, 6 year old pianist Evan Xie, and the Nevins Chime Chorus.
Stage Director Producer 

 Agnes Florian



Festa Italiana is presented by The St. Anthony Foundation of Charlotte.  Find more information on the foundation and its purpose here.